This is a site for selling ballooning 'things'.... be aware it is continually being updated. Last update: 8 December 2014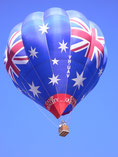 This is a site dedicated to selling off ballooning equipment, accessories, souvenirs, and collectible items from past balloon meets, Australian as well as overseas including the Gordon Bennett Gas Balloon Race.
Our names are Peter Vizzard and Judy Lynne.  We owned Balloon Aloft Australia Pty Ltd for 28 years.  We havr now retired from active commercial ballooning, although we continue for personal enjoyment.
Over the past 40 years, much ballooning 'paraphernalia' had been collected, some of it valuable, some of it--just fun to have!
So those involved in ballooning and needing equipment...  collectors wanting pins, patches or flight envelopes...  balloon jackets, vests or wind cheaters from past meets, please peruse this site.  If something grabs your fancy, email us.
Peter V. and Judy L.